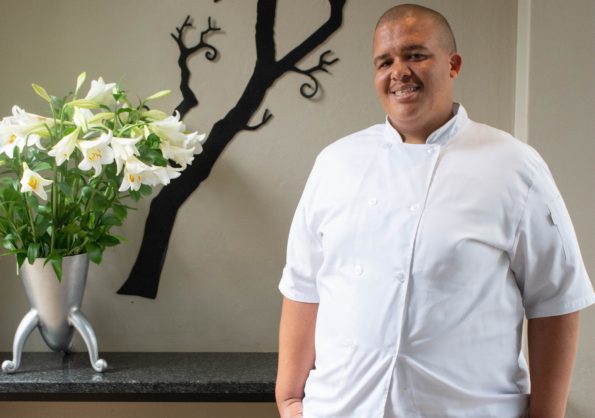 After the perfect invitation, I was headed to the Clico Boutique Hotel located in Rosebank, Cnr Jellicoe, and 27 Sturdee Ave. Where the hotel had named the new Head Chef, Neo Mkwanazi who dished up a storm for his guests.
With lots of effort which leads to the promotion as a Head Chef, Neo's complete consistency for learning and growing has surely put him where he has always wanted to be because of what he has achieved thus far.
Getting there isn't much of a hassle and located near one of the best restaurants apart from the heavy traffic and bus stops here and there.
"I have been consistently impressed with Neo's culinary skill and a knack for flavours and have no doubt that under his guidance, so, this restaurant will continue to flourish and grow into one of the best-refined dining establishments in South Africa, " said the outgoing Chef Marnuc Scholly
It was just my kind of an environment, so peacefully and intimate. With lots of jokes, romance and some give and feel bits of advice. Whilst having the sous-chef coming out and about addressing us with each plate that was delivered on our tables. With every detail, with what interest and special he had planned for it. whilst playing the soft intimacy, R'N'B soul music was a good choice together with the small talks that were being said.
Starting with the Wild Mushroom soup. Very light and warm for the cold tummies who just want something to cool them off while enjoying the intimate music and surrounding. Complimented by the Basil cured, mushroom chips and pickled Shimejis. But, I should say I have never been so bewildered in my taste buds. A perfectly well incorporated and very light feel to it. Pairing it together with the Beaumont Pinotage Red wine glass. One word, mouth-watering.
They definitely didn't call it "cured" for nothing; it literally cured my hunger. The second dish was one of the best and most salivating textures and composition, being the Gin Cured Salmon, with a perfect combination of the Gin and tonic berry and curing salt and sugar to cure it. With just simplicity of the Wasabi Mayo, Puffed Rice, and juniper Gel. Paired with the Asara Chenin Blanc white glass.
"I believe in food that is true, in a sense that it doesn't destroy or take away. At Clico, we do locally sourced, sustainable, flavour-packed food – always identifiable in its simplicity. We consistently strive to keep our guests coming back by giving them a holistic, silver-service experience, paired with a taste sensation of classic dishes done with a local twist," says Neo.
My main course was something definitely worth the trip. Cooked with excellence and at a perfect temperature, whilst slowly cooked and then grilled to the explicit texture. I was never looking forward to such. The Pork belly with Bacon Jam, Pumpkin, and Jus. And pairing it with the Paul Cluver 2017 Riesling glass was just definitely a goodbye statement.
Unfortunately, the final one was the citrus tart. Using oranges and lime and whatever citrus they could find! The perfect incorporated taste was just one to end the day. The pairing was absolutely amazing and done well. Pairing it with the MCC Asara white wine glass. Perfect and a definite must repeat. Handmade ice cream, soft and sweet. Mixed purely with love and dedication, with the sweet Lavender aroma setting the bar really high and with the strong taste of the Blood Orange ice cream and Rhubarb. I definitely must say I may be ditching the chocolate soon.
Final verdict after a little debate, had to be the Pork belly and the desert.
Food: 5/5 perfect and well prepared.
Spending: R230, good value for money.
Atmosphere: beautiful and a place to be when you want to runaway from all the busy scheduling and headaches.